Mid-Atlantic Christian University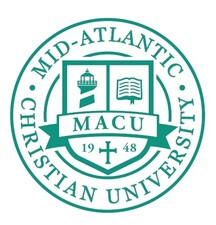 Mid-Atlantic Christian University is an institution of Christian higher education whose mission is to impact the world by transforming ordinary people into extraordinary Christian leaders.
The educational philosophy of Mid-Atlantic Christian University rests upon the conviction that all truth comes from God. Only the Bible, God's word, enables us to integrate all fields of knowledge into a meaningful unity; it alone answers the deep questions of the human mind and spirit. Hence, all courses at Mid-Atlantic Christian University are taught from the perspective of the Christian worldview. Mid-Atlantic Christian University provides a Christian education based on a three-fold program of undergraduate instruction: Biblical and theological studies, general studies and professional studies. Mid-Atlantic Christian University believes that an educational program should cultivate development in all areas of a student's life. The University seeks to accomplish this through its academic curriculum, its service-learning program and its extracurricular activities. Academic work is designed to provide intellectual growth and maturity. The service-learning program is designed to integrate instruction with practical experience in Christian service. Extracurricular activities are designed to promote spiritual, physical and social growth.
Importance of Biblical Higher Education
In Matthew 7 Jesus tells a parable about two builders. One builder built a house on sand and another on rock. Jesus says that the person who builds a life on His words is like the man who built on rock. At MACU every student receives a substantial biblical and theological education as part of his/her degree program. Students preparing for vocational ministry complete forty-eight credit hours of Bible and theology courses. This requirement far exceeds the majority of MACU's peers. Students preparing for a career in the marketplace complete eighteen hours of Bible and theology courses. Instead of the biblical studies expectations being an add-on we view them as foundational.
We believe that students can't adequately work in the physical sciences without a solid foundation of knowing God as a creator God.

We believe that students can't adequately work in the field of human services without a solid foundation of what the Bible teaches about human nature.

We believe that students can't appropriately work in the business and corporate world without a solid Scriptural knowledge of God's views of finance, poverty, and culture.
We are unapologetic for requiring our students to take courses that ground them in Scripture; for MACU is committed to God's Word as the only foundation worthy of building a life.